Try the World's Best Undershirt
Build a custom multi-pack and save. US Orders over $99 get Free Priority Shipping!
Designed to follow the contours of your body without being compressive or restrictive. Cut in at the waist but back out at the hips so it fits close but not too snug.
Your size recommendation will appear here.
Use the sliders above to get our recommendation for a given height and weight.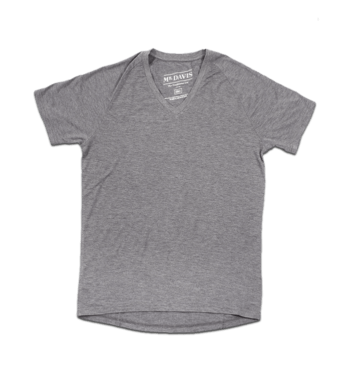 Designed to fit like a classic tee shirt – the one you never want to take off. Zero taper for a roomier fit. Doubles as an excellent lounge shirt or sleep shirt for men or women.
"I have tried a dozen different undershirts, and even thought I had found the best. That is until I tried Mr. Davis. From the fabric to the cut to the length, these undershirts are the best I've ever worn."

Jason I.

April 11th, 2016 - Tailored White Crew Neck - XL
"I've searched the world for the perfect white dress shirt that is not transparent. It does not exist. But just when all hope was lost, my wife suggested searching for the perfect undershirt, which I found thanks to you. My only regret is that I thought all undershirts were the same for so long.
I was sorely mistaken. I'm ordering more now."

Charlie D.

September 23rd, 2015 - Tailored Tone V Neck, Crew Neck - L
"Just wanted to say that your shirts are the best I have found, by far.
You've really put thought into the fabric, fit, colors, and shape, and it shows. Thank you!"

Richard T.

March 26th, 2016 - Tailored Grey V Neck - L
"I don't know how you managed to arrive at this color, but it is perfect for me, a pasty white guy. It's better than any heather grey undershirt I have. It's better than the twice-as-expensive "flesh tone" undershirt I bought. You should patent this color."

Dale S.

October 15th, 2015 - Tailored Tone V Neck - S
I'll be honest, I was skeptical of this product...could it really be all that it was advertised to be?

Let me tell you... this shirt ROCKS! I immediately tried it on under 5 of my favorite shirts, all different styles, and it just works! I am SO glad I got the 3-pack, and I would be shocked if I ever throw on a white cotton T again."

Jordan

August, 2013, Tailored Tone V
When I wore it yesterday, a very warm day, I realized that it was much softer and more comfortable than any other cotton undershirt I have ever worn.

Moreover, I don't know if it's just in my mind or not, but it made me feel cooler than a normal undershirt would have made me feel even though it is so form fitting. I don't understand all the technical aspects of this undershirt, but I can say that I am ordering more...These are AWESOME.

Michael

August, 2013 Tailored Tone V
"my shirt arrived this morning and before i left for lunch i switched undershirts to it. immediately i turned to my buddy who joined me for lunch "i need more of these."

I wasnt sure how the bamboo fabric would be as i had never even heard of it, but its SO soft. wearing any other undershirt now is going to feel like i strapped hay to myself."

Nick P.

August, 2013, Tailored Tone V
"Staying tucked in is one of the many things about this shirt that stood out for me. I'm really glad to know that this shirt is long and comfortable. I have a feeling I'll be ordering many more of these and taking advantage of the referral program."

David L.

August 2013, Tailored Tone V
"Fantastic product, just amazing! Extremely soft comfortable material, form fitting, not restrictive and very breathable. It's literally a climate controlled protective layer that completely tightens and smooths out your appearance. I consider myself a connoisseur of men's clothing and I have to admit the quality, style, fit and feel of these products surpassed my every expectation. Great Value for the price. I will forever be a lifetime buyer and supporter of your products."

Tyler

XXL Tone, White, Grey V and Grey, Navy Bam Std Underwear
"Awesome shirts guys. Can't even feel it on my body. Fantastic. Thanks!"

Serg

August, 2013, Tailored Tone V
"I got my shirt last week and feel horrible when I have to take it off. The other day it needed to be washed and I looked at my old undershirt and just couldn't put them on. I'd rather go without than wear something other than my Mr. Davis."

Ron D.

August, 2013, Tailored Tone V
BUILT TO LAST:
Customers tell us they hold up to every-day use for years. If your shirt has any defects, take a picture and we'll send a replacement. For longest life and maximum comfort, wash and dry on cold.
ALL DAY COMFORTABLE:
Buttery soft 96% bamboo viscose and 4% spandex move with you. Whether you're lean and fit or prefer a roomier shirt, we have a cut and a size combination to keep you looking and feeling great.
FAST SHIPPING – FREE RETURNS:
Our priority is getting you into the right fit, even if that means an exchange. We offer free return shipping to US customers for returns and exchanges. Most orders ship within a few hours and arrive in 2-3 business days.
With Mr. Davis, No One Can See Your Undershirt.
Our Tone Undershirt versus our White Undershirt. Images taken in identical conditions with no manipulation.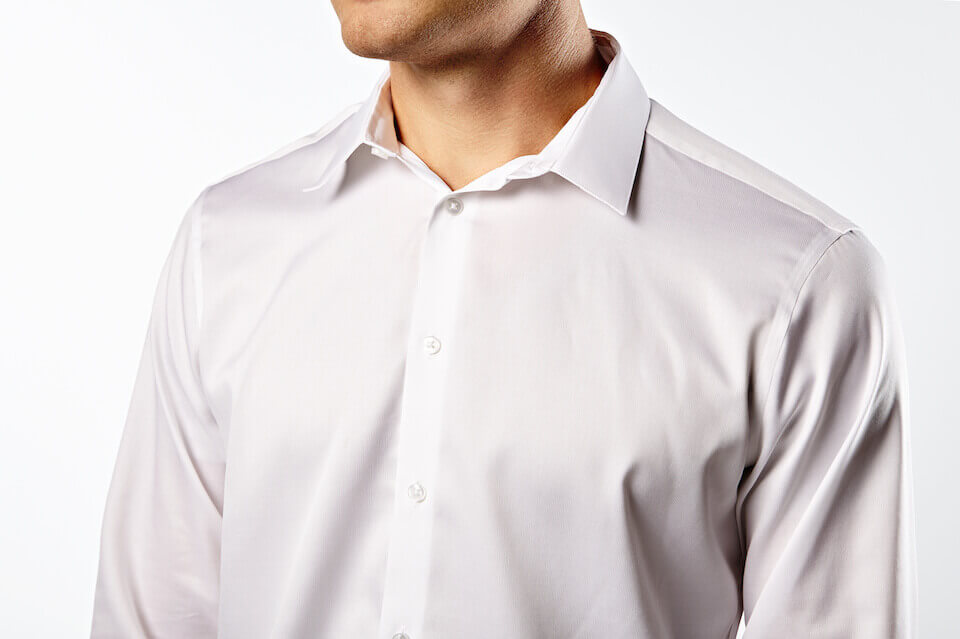 Frequently Asked Questions
If we haven't answered your question here, chat with us or email us at support@mrdavis.com
HOW IT SHOULD FIT:
The fit of Mr. Davis shirts is designed to be comfortable. If you prefer a t-shirt fit, or want to wear your shirt as a t-shirt, we suggest the Traditional Cut. If you have a more tapered upper body, or just prefer a bit of taper, we recommend our Tailored cut.
HOW IT'S CUT:
Our Traditional Cut fits more like a traditional t-shirt. The Tailored cut is for people who prefer a more athletic cut, or who are lean through the waist.
On both cuts, the sleeves are shorter than a polo sleeve and allow for unrestricted movement.
On both cuts our V is a little deeper than a standard V neck. Our aim is for our shirts to hide, so we think it's a feature, not a bug. If you like a shallower V, we suggest you err on the small side when you pick your size.
If you prefer a more snug fit, and you are on the borderline of our size chart, you may want to size down.
WHAT IS THE VIP MEMBERSHIP PROGRAM?
Mr. Davis is all about optimizing our cost structure to deliver value to you, and one of the best ways we can do that is by being able to predict future orders. When you become a Mr. Davis VIP Member, you'll be set up to automatically receive your products on a fixed interval. This allows us to better estimate how much product we need to make ahead of time, which means we can save money. We pass that savings on to you in the form of a big discount.
As long as you maintain active VIP membership (and you can skip shipments as often as you'd like), you'll be locked into your original pricing, even if prices go up in the future.
WHAT IF I'M NOT READY?
That's fine, we've made the program really easy to tune to your personal needs.  A week or so before we ship any membership shirts to you, we'll send you an email to let you know they're on their way.  If you're not ready, just click the SNOOZE button in the email and we'll delay your shipment by two months. You can snooze as often as you like.
HOW CAN I CANCEL MY VIP MEMBERSHIP?
You can pause your VIP shipment at any time with just a few clicks. This  gives you all of the benefits of canceling without losing VIP status.
The easiest way pause shipments is to log in to your account at http://mrdavis.com/account.  From there click on the VIP Settings tab and you can snooze, pause or cancel any active memberships.
If you don't want to do this yourself, you can send an email to support@mrdavis.com telling us you want to cancel or pause membership and we will take care of it for you.
WHAT IS YOUR RETURN POLICY?
Mr. Davis allows free returns and exchanges for unused, unworn and unwashed merchandise within 100 days of purchase (US customers only). To initiate a return or an exchange, visit our return policy page. Here's the process to return an item:
Before you return your item, you must contact us at support@mrdavis.com to obtain approval for the return. If you send us a shirt without an RA#, we will not be able to process your return.
Upon approving your return, we'll send you a prepaid shipping label including the RA#.
You must ship your return to us within 5 days of receiving your label or we may not be able to process your return.
Once we receive your item, we'll process your return and refund your card for your purchase price.
CAN I EXCHANGE ITEMS FROM MY ORDER?
If you have issues with sizing or selection we provide FREE shipping both ways on exchanges (US only) of your Mr. Davis to get you in the right product. We use the same process we do for returns. We cannot exchange international orders at this time.
WHY DO MR. DAVIS SHIRTS COST MORE THAN NORMAL UNDERSHIRTS?
Because they're a lot better, and the fabric costs a lot more. The main downside to bamboo is that it's an expensive fabric – significantly more expensive than the types of fabric your favorite athletic apparel manufacturers use for their technical gear (and certainly more than the raspy cottons used in your standard white tee) – but we've offset that expense with a commitment to low margins and by selling directly to you to eliminate unnecessary markup. For more details check out our FAQ.
WHY DO YOU USE BAMBOO VISCOSE?
Because it's great stuff. Technically, it's one of the softest fabrics in the world. Combined with spandex, it stretches to make you feel like you're not wearing an undershirt.  Lastly, it has a lot of the characteristics of advanced technical fabrics in that it wears cooler than cotton and wicks moisture off your body to make you feel comfortable. For sustainability, we believe bamboo is a better product than cotton. Unlike cotton, which requires massive amounts of water to grow, bamboo requires almost no irrigation. And while there is some physical and chemical processing required to weave bamboo into cloth, it grows so fast that it's sustainable. We think it's a responsible environmental choice.
HOW SHOULD I WASH MY MR. DAVIS?
Your undershirt may arrive a little wrinkled. Do not fret. Simply iron on cold or steam to de-wrinkle. Please wear around a bit before washing just in case you need to exchange your order. Wash on cold and dry cool or hang dry.
WHAT PAYMENT METHODS DO YOU ACCEPT?
We accept Visa, MasterCard, American Express and Discover. If you need to arrange for other payment methods, we may be able to accommodate you if you contact us at support@mrdavis.com.