Try the World's Best Undershirt
Build a custom multi-pack and save. US Orders over $99 get Free Priority Shipping
Jason I.

April 11th, 2016 - Tailored White Crew Neck - XL

""I have tried a dozen different undershirts, and even thought I had found the best. That is until I tried Mr. Davis. From the fabric to the cut to the length, these undershirts are the best I've ever worn.""
Charlie D.

September 23rd, 2015 - Tailored Tone V Neck, Crew Neck - L

""I've searched the world for the perfect white dress shirt that is not transparent. It does not exist. But just when all hope was lost, my wife suggested searching for the perfect undershirt, which I found thanks to you. My only regret is that I thought all undershirts were the same for so long.
I was sorely mistaken. I'm ordering more now.""
Richard T.

March 26th, 2016 - Tailored Grey V Neck - L

""Just wanted to say that your shirts are the best I have found, by far.
You've really put thought into the fabric, fit, colors, and shape, and it shows. Thank you!""
Dale S.

October 15th, 2015 - Tailored Tone V Neck - S

""I don't know how you managed to arrive at this color, but it is perfect for me, a pasty white guy. It's better than any heather grey undershirt I have. It's better than the twice-as-expensive "flesh tone" undershirt I bought. You should patent this color.""
Jordan

August, 2013, Tailored Tone V

"I'll be honest, I was skeptical of this product...could it really be all that it was advertised to be? Let me tell you... this shirt ROCKS! I immediately tried it on under 5 of my favorite shirts, all different styles, and it just works! I am SO glad I got the 3-pack, and I would be shocked if I ever throw on a white cotton T again.""
Michael

August, 2013 Tailored Tone V

"When I wore it yesterday, a very warm day, I realized that it was much softer and more comfortable than any other cotton undershirt I have ever worn. Moreover, I don't know if it's just in my mind or not, but it made me feel cooler than a normal undershirt would have made me feel even though it is so form fitting. I don't understand all the technical aspects of this undershirt, but I can say that I am ordering more...These are AWESOME."
Nick P.

August, 2013, Tailored Tone V

""my shirt arrived this morning and before i left for lunch i switched undershirts to it. immediately i turned to my buddy who joined me for lunch "i need more of these." I wasnt sure how the bamboo fabric would be as i had never even heard of it, but its SO soft. wearing any other undershirt now is going to feel like i strapped hay to myself.""
David L.

August 2013, Tailored Tone V

""Staying tucked in is one of the many things about this shirt that stood out for me. I'm really glad to know that this shirt is long and comfortable. I have a feeling I'll be ordering many more of these and taking advantage of the referral program.""
Tyler

XXL Tone, White, Grey V and Grey, Navy Bam Std Underwear

""Fantastic product, just amazing! Extremely soft comfortable material, form fitting, not restrictive and very breathable. It's literally a climate controlled protective layer that completely tightens and smooths out your appearance. I consider myself a connoisseur of men's clothing and I have to admit the quality, style, fit and feel of these products surpassed my every expectation. Great Value for the price. I will forever be a lifetime buyer and supporter of your products.""
Serg

August, 2013, Tailored Tone V

""Awesome shirts guys. Can't even feel it on my body. Fantastic. Thanks!""
Ron D.

August, 2013, Tailored Tone V

""I got my shirt last week and feel horrible when I have to take it off. The other day it needed to be washed and I looked at my old undershirt and just couldn't put them on. I'd rather go without than wear something other than my Mr. Davis.""
What Makes the World's Best Undershirt?
Combine the best fabrics with the best fit, and you've got an undershirt you won't want to take off.
Designed to follow the contours of your body without being compressive or restrictive. Cut in at the waist but back out at the hips so it fits close but not too snug.
Your size recommendation will appear here.
Use the sliders above to get our recommendation for a given height and weight.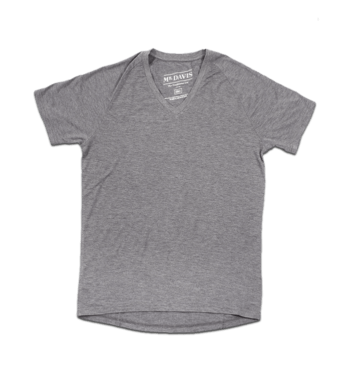 Designed to fit like a classic tee shirt – the one you never want to take off. Zero taper for a roomier fit. Doubles as an excellent lounge shirt or sleep shirt for men or women.
With Mr. Davis, No One Can See Your Undershirt.
With a White Undershirt
A white undershirt makes the fabric of light dress shirts brighter, causing your sleeves and neck line to show through.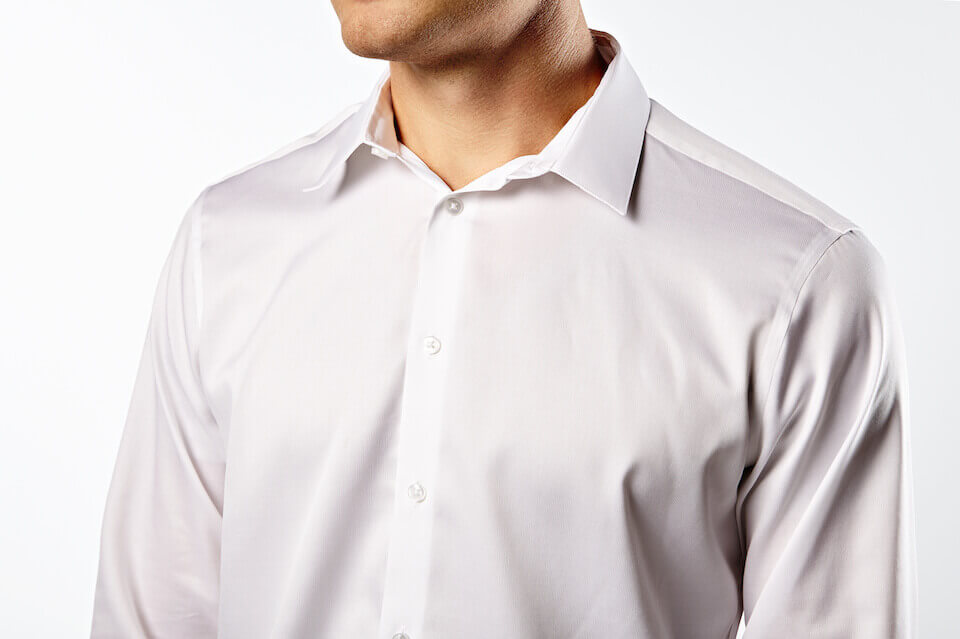 Images taken in identical conditions with no manipulation.
With a Mr. Davis Tone Undershirt
Mr. Davis Tone Undershirts blend in with a broad range of skin tones to hide under your dress shirts. No wonder some people call Mr. Davis the Invisible Undershirt.
Frequently Asked Questions
If we haven't answered your questions here, hit our chat icon or email us at support@mrdavis.com